Rooms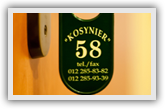 All rooms have a TV, bathroom, set of bath cosmetics and a bottle of water. Free wireless Internet is available for our guests.

Inn reception is open 24 hours, 7 days a week.

There is a possibility of ordering meals to the rooms.

Breakfast is included in the room price. All meals can be ordered in the inn restaurant which is open from 7am to 10 pm.

Rooms:

Double room


Room for 3 people


4 people apartment


There is a possibility to bring a cat/dog.